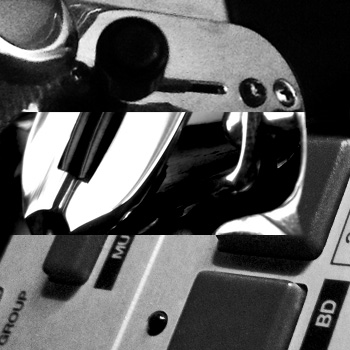 Guitar and clarinet are the main sound sources of the husc ensemble, the output of both is sampled, processed and resequenced in real-time. Interacting with the sequencers and playing to the results allows for a large improvisational territory to discover.
What started as an overdub of clarinet on an early solo electronic composition, grew to recording 'nothing large, but all things for little' in 2010, seven electronic tracks layered with clarinet improvisations and sampled electric guitar phrases.
Six months later we recorded another ep, this time recording it live, we started fusing the three elements together, the clarinet, electric guitar and electronic processing, searching for sounds that were interweaving the instruments sonic characters. Three segments of those recording sessions became 'in the space of seven breaths'.
In 2011 we recorded 'killscreen' where we recorded loops to improvise over, experimenting with both live improvisation and ready assembled loops of auditors and other noise. At this point we became better improvising as a three piece ensemble and we wanted to return to live recording.
Our 2012 ep 'still everything' further explored the possibilities of the improvised performance and processing we started with our 'in the space of seven breaths' ep, and this all led to our first live performance at the PNEM soundartfestival in November 2012.
The husc ensemble grew out of experiments in the husc.sound studio of Sander Bolk and continues to evolve and grow along with it.
Clarinet is played by Koen de Wit
Guitars and effects by Samir Boureghda
Electronic programming and processing by Sander Bolk
To contact husc please use our contact page or mail .